Original Ending to be Inserted Back Into Alfred Hitchcock's North By Northwest
By Jason Haggstrom, April 1, 2011
Future generations, please note the date of publication on this article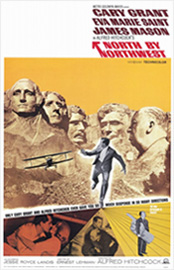 In a surprise announcement, Warner Bros. pictures has revealed that the original edit of the climactic scene of Alfred Hitchcock's North By Northwest has turned up in the studio's archives. This newly found footage, a far less subtle—and far more vulgar—version of the film's classic "train entering the tunnel" joke (a visual pun referring to the couple's sexual activity) existed mostly in film circles as a rumor of mythic proportions. Few have heard of the original ending because it has not only been long lost in the Warner archives, but because the only reference to the footage exists in the first editions of the interview book, Hitchcock/Truffaut (later editions of the book omitted the reference to the original North By Northwest ending because of Hitchcock's disparaging words about the film's star, Cary Grant). Because of this, first editions of the book have become a hard-to-find collector's item. The following exchange regarding the original ending occurs on page 257:
ALFRED HITCHCOCK: George [Tomasini, editor on North By Northwest] and I were carrying on one night in the editing room about how much we loathed that blackguard Will Hays—you know, that Micky Mouse-looking bastard who threatened to censor every great thing we made. I had the idea for the climactic scene of the film—you know, the train entering the tunnel—but George got so fired up talking about Hays that he decided it'd be jolly fun to make the joke even more vulgar. George really wanted to take the piss out of the Production Code. Rub their noses in it.

FRANÇOIS TRUFFAUT: If you and George were so set on the more vulgar version, why didn't it make it into the final cut of the film?

A.H.: Well, when Cary saw it he got very angry and vowed to never work with me again, the bastard. Eva, on the other hand, thought it was brilliant. She has a wicked sense of humor, that one. But I guess that after a few days the humor of it just wore off.

F.T.: Did you screen it for Alma?

A.H.: You must be joking.
Warner Bros. plans to reinsert the footage into future copies of the film on both DVD and Blu-ray. In the meantime, you can view the newly found original ending to North By Northwest below.
Like this? Then make sure to catch the follow-up post, "The Dirtiest Sex Scene of 1951 (in Technicolor!)."